Inline Skate Training Boosts Your Winter Sports Performance
Skier Skills Go Downhill in the Summer

In North America it is very tough to find opportunities to ski or ski train in the summer months. If you can get yourself to Alaska or Canada's northern steeps and can hike up to get your vertical, well, you're better off than most skiers. But the vast majority either are forced to take time off (perhaps to rest and recover) or they have to find a way to keep their hard won skills sharp and the body conditioned.
Inline skating helps skiers because in both sports keeping your weight forward is not just a good idea, it's necessary. And in order to turn or accelerate in both sports, getting your weight from one side of your body to the other is a necessity. If a participant in either activity has balance issues, well, you won't be doing that activity for very long.
Physically, the legs and core are key in both sports. Rollerblading actively engages the entire lower body and the core is fired up particularly when accelerating. Moreover, If you've spent the entire summer sitting at the beach sipping frosty beverages, there is a good chance your first few days on skis will bring aches, pains, and regrets you didn't rollerblade all summer long.
Check out Rollerblades Skate-to-Ski program HERE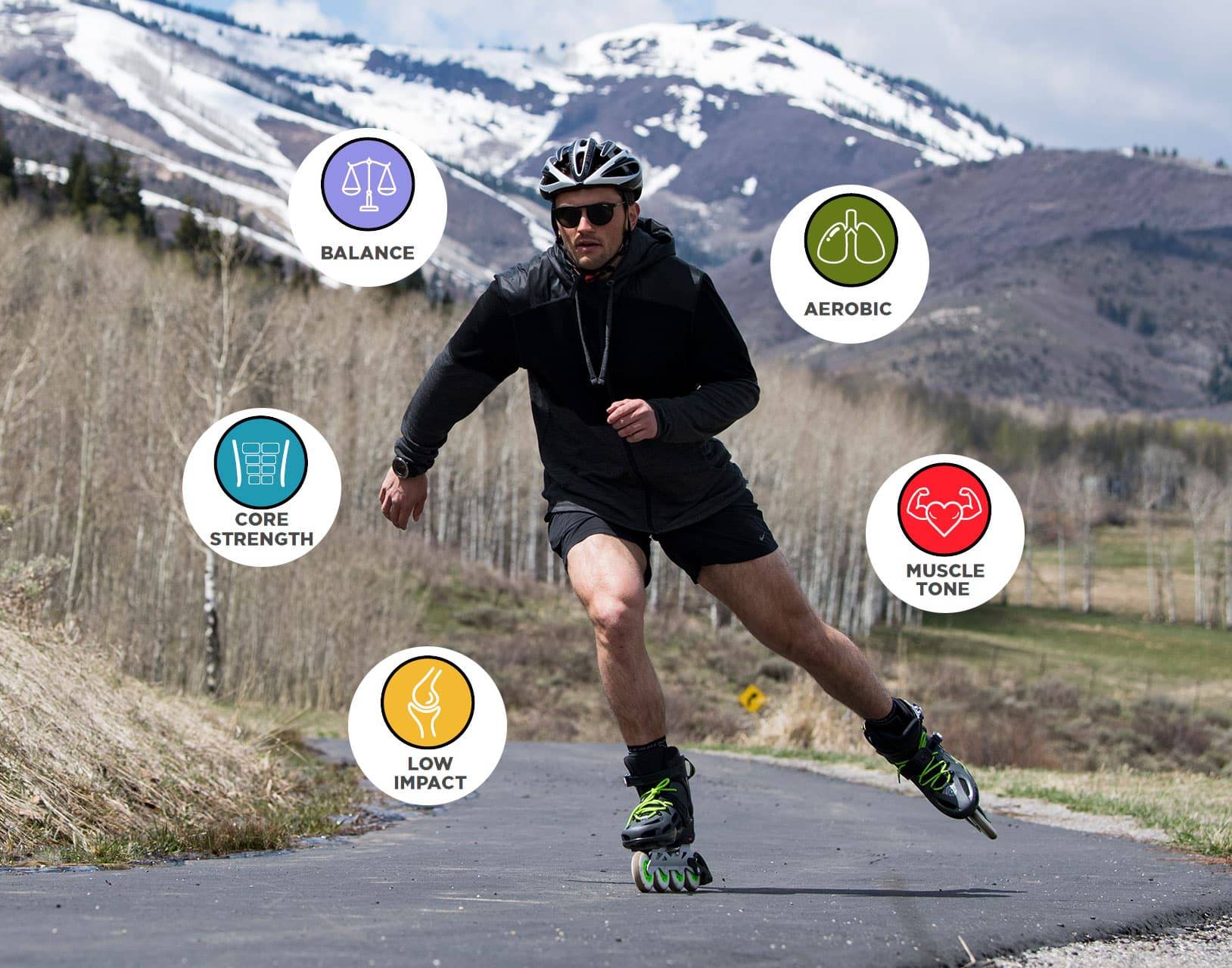 Picture Courtesy of Rollerblade
Hockey Players Love Inline
The sport of hockey has embraced inline skating like crazy. Since ice time is so expensive and very hard to find in warm weather, inline skating is a great alternative. The founders of Rollerblade Inc. were hockey enthusiasts who needed off season work. The legacy of their company testifies to the enduring benefit of inline skate usage in the warmer months.
How do rollerblades enhance hockey training? For the newbie hockey enthusiast the stopping and turning methods are different, but inline skates will help build confidence on skates and leg strength. The process of straight ahead movement and acceleration are very similar for athletes in both sports. Controlling your movement on one leg is common to both.
The amateur hockey player also benefits from stick handling while on rollerblades. To be sure, wielding a stick and bashing pucks on an empty parking lot might appear, well, atypical, it will pay dividends once the season starts. Even if you aren't into ice hockey all that much, this sort of practice will make you good and dangerous if you try out inline hockey.
While probably not for a beginner on rollerblades, inline (roller) hockey is growing in many locations. Leagues for those new to roller hockey all the way up to professionals and leagues for masters (a touch older) and women exist. Coed leagues make for an interesting date night and they can be found too.
Bottom line: you can prepare for your winter sports and have fun at the same time. Just get on inline skates!
2 Comments
This is a test comment

This is a test
Leave a reply
Your email address will not be published
Required fields are marked