FEATURED CATEGORIES
The BEST selection of quality tennis and racquet sports products you can find online!
FAVORITES
Browse some of our top rated and best selling customer's top favorites
Sign up for our
membership program

and start saving instantly
BUYING GUIDES
A collection of buying guides to help you with your purchasing decision.
Tennis Racquet Technology
Every year, new technology is introduced into the market. Find out which could potentially improve your game.
Kids Tennis Racquet Buying Guide
Finding the best tennis racquet for beginners can be a daunting task. Use our step-by-step guide to find the best racquet for your player.
Measuring Grip Size
Often overlooked when buying a tennis racquet, selecting the appropriate grip is crucial for the best control over your racquet.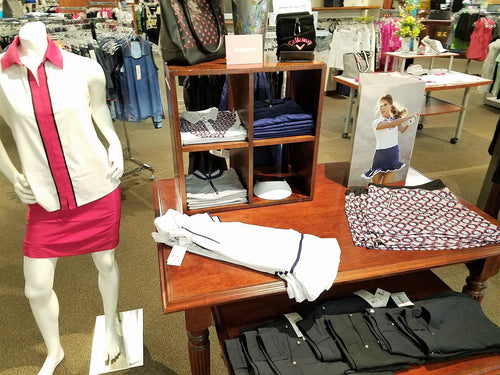 Visit Our Store
See why we have been the premier Oakland County retailer for tennis racquets, golf clubs, apparel, footwear bags & accessories!
30211 Woodward Ave
Royal Oak, MI 48073
248-435-6800
More Info
History of Tennis Racquets
Tennis racquets have evolved significantly over the years, with advancements in technology, materials, and design leading to major changes in how the game is played. Here is a brief history of tennis racquets.

In the 16th century: tennis is played with bare hands or gloves, and the ball is struck with the palm of the hand. Begining in the 17th century players start using wooden paddles or racquets, which are shaped like table tennis paddles and have no strings. It is not until the 18th century that racquets start to evolve, with players adding strings to the racquet face to increase control and power.

The 19th century brought the introduction of lawn tennis in the 1870s leads to further innovations in racquet design. The first lawn tennis racquets are made of wood, with long handles and smaller heads than modern racquets. In the early 20th century metal racquets start to appear, with steel and aluminum being the most popular materials. These racquets are heavier and more durable than wooden racquets, but also less flexible.

From the 1960s through the 70s graphite and fiberglass tennis racquets are introduced, providing a lighter and more powerful option for players. These materials also allow for more customization in terms of stiffness and weight. Satrting in the 180s through present day racquet technology continues to advance, with companies experimenting with new materials, designs, and features to enhance performance. Modern racquets are made with a combination of graphite, carbon fiber, Kevlar, and other materials to provide a balance of power, control, and comfort.

Today, tennis racquets are available in a wide range of sizes, shapes, and weights to cater to different playing styles and skill levels. They are an essential piece of equipment for any tennis player and play a significant role in determining the outcome of a match.